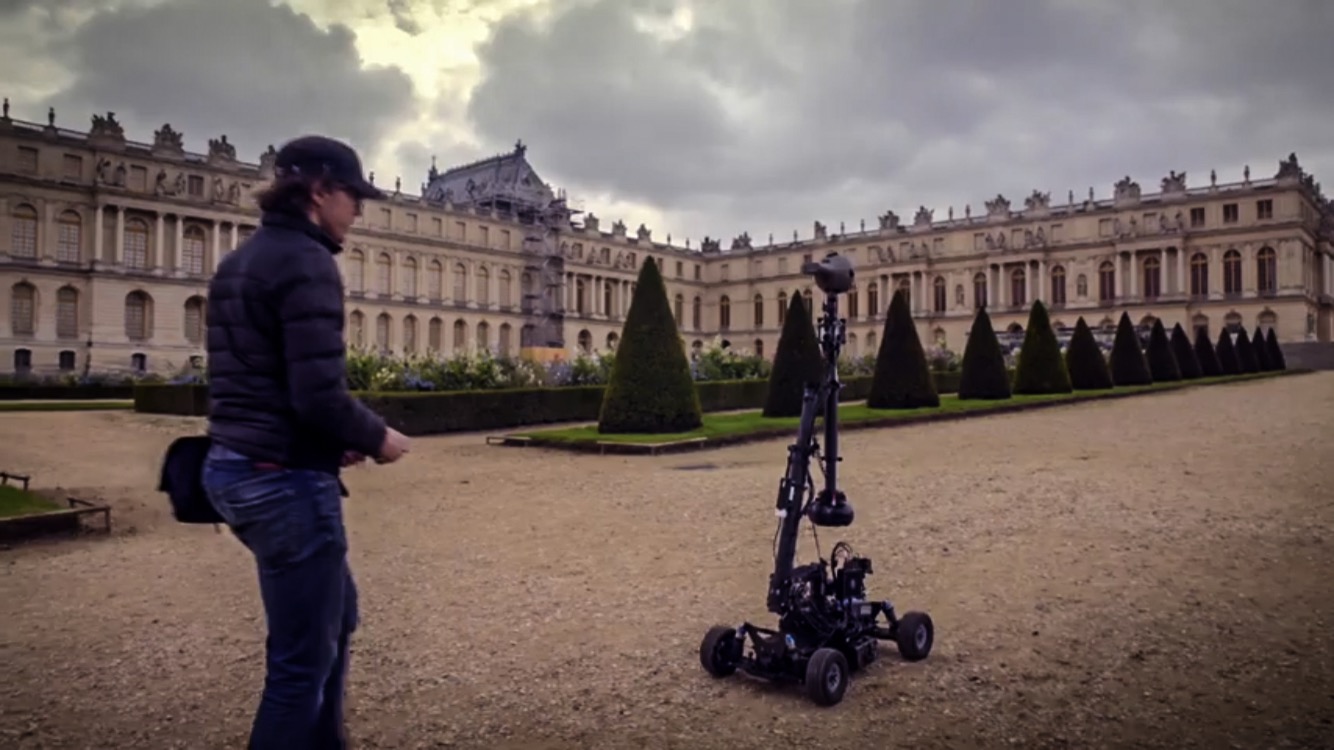 Cruising in the garden of the king
This was during the filming of the Hulu VR Series On Stage, the Phoenix episode. There was no garantee until we showed up at the castle of Versailles that they would let us shoot. They wanted to see the remote control car and make sure we would not damage any royal belongings with it…
My kingdom for a car
Very often, especially on on location shoots, we'll have to prep the gear in unexpected places, at unexpected times. In this situation, we arrived at 2am in the hotel next to the castle of Versailles, and we had to re-built our remote control car (the Mantis 360) in the hall way of the bedrooms, to be ready to roll out at a 7am call. The night was short, but we got amazing footage (Hulu VR On Stage: Phoenix, directed by Jeff Nicholas).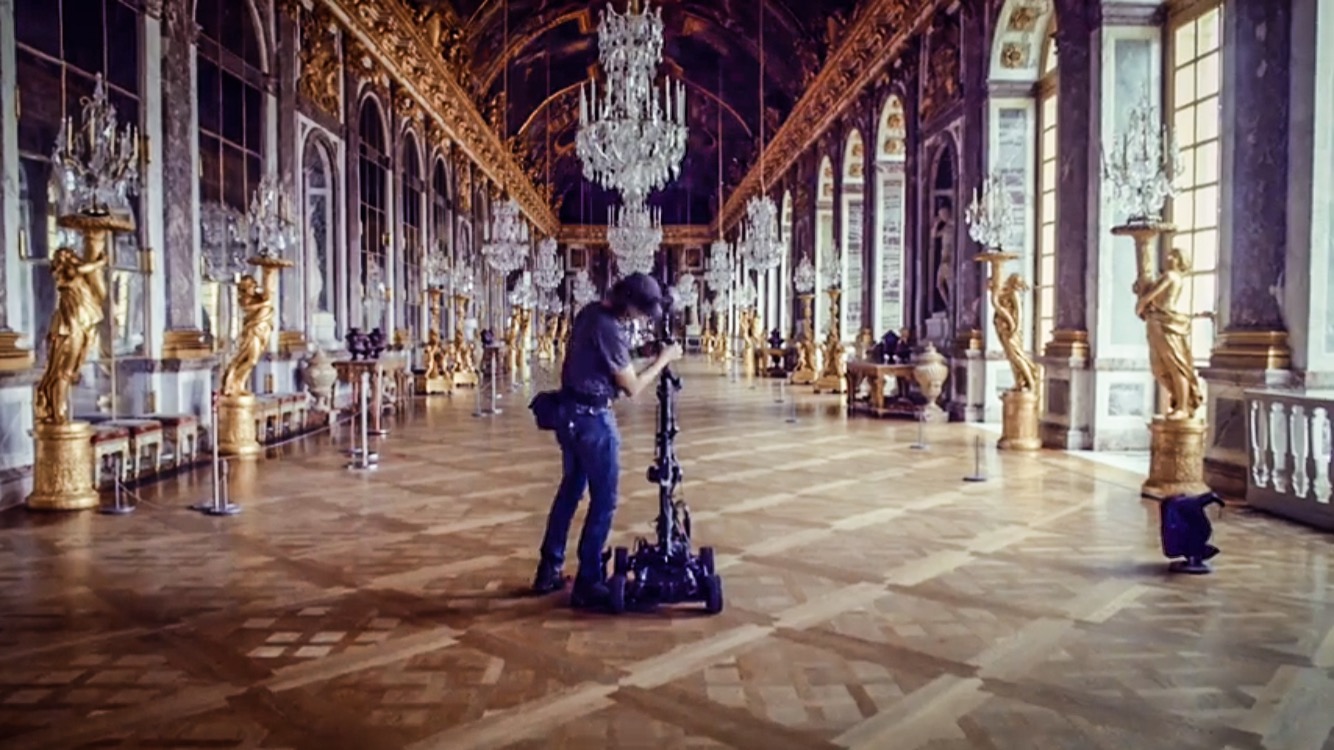 In the Hall of Mirrors
Next morning inside the castle of Versailles…
The representent met us early at the entrance. She frowned while inspecting our weird looking robot. Until she saw its ultra waxed tires, she granted smilingly that we drive it around.
"When we can all we want, it is not easy to only want what we owe" - Louis XIV
Just because… I will never get over having the opportunity to shoot and drive this thing in the castle of Versailles.
Alessia Cara VR360 BTS documentary
This was a very quick trip to Barcelona, Spain, where I directed this doc/BTS for Alessia Cara's new song "Growing Pains". We had 4x different types of camera, including an underwater VR rig, and a Mantis sent to us on the last day from London. I hope I can shoot more of those, and create more cool intimate content with talented artists like her.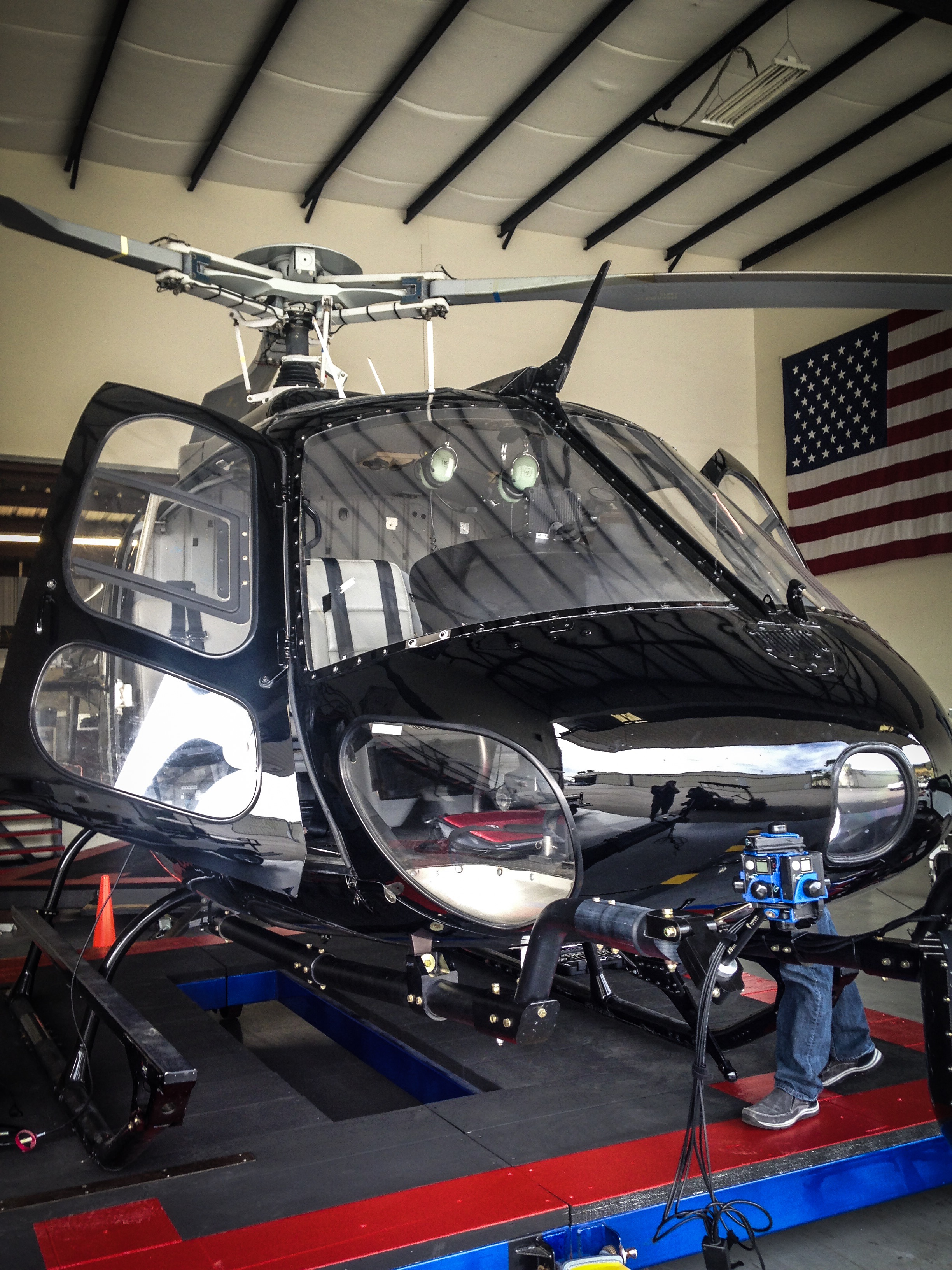 Fastened your seatbelt
I rigged this one in Los Angeles, and flew to Vegas, where I met the helicopter over there. We were going to cover a race, and I could only imagine my camera rig having taken its own life with a sky dive above the 5 Freeway. It eventually made it safely to Vegas.
Meeting Tony Hawk
The challenge with him, like many other clients, was that he was exposed to VR prior to this project, which resulted in an unsatisfactory result for him.
I had come up with a variety of options to capture him and his team of professional skaters in VR, which eventually led to a fun collaboration.
In the eyes of the Hawk
Tony was pretty excited to try this one out. I had the camera rig a little forward, to allow the view of his skate board in the front while the viewer looks down.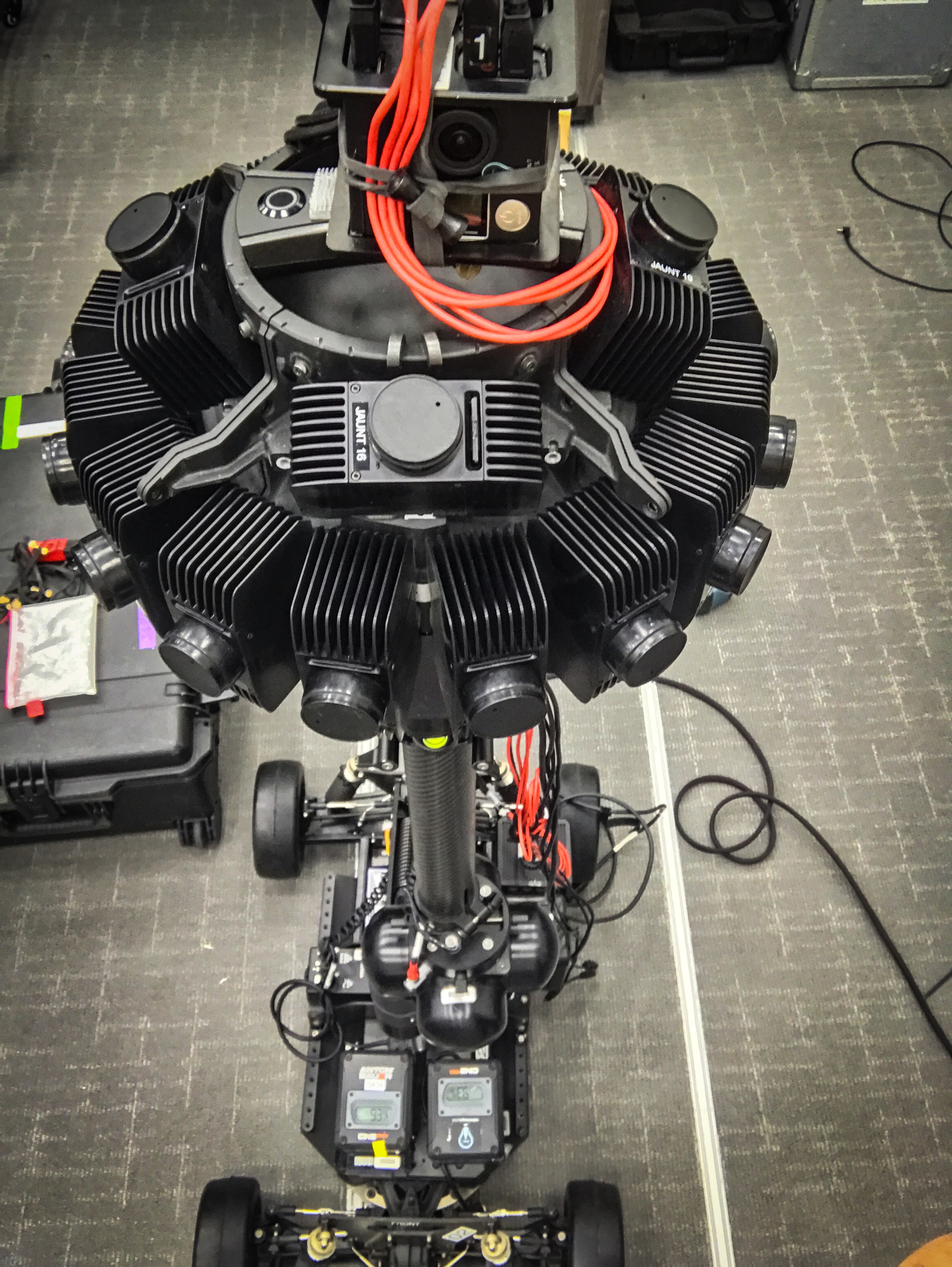 The Jaunt Mantis
This has not been done that much, putting Jaunt 1 on a Mantis 360, due to the heavy payload, and challenging balance process. We were still able to get it done. This was during prep.
Wish Upon
This is that previous set up during the shoot. This was for Wish Upon, the VR experience (available on youtube, Oculus,… etc).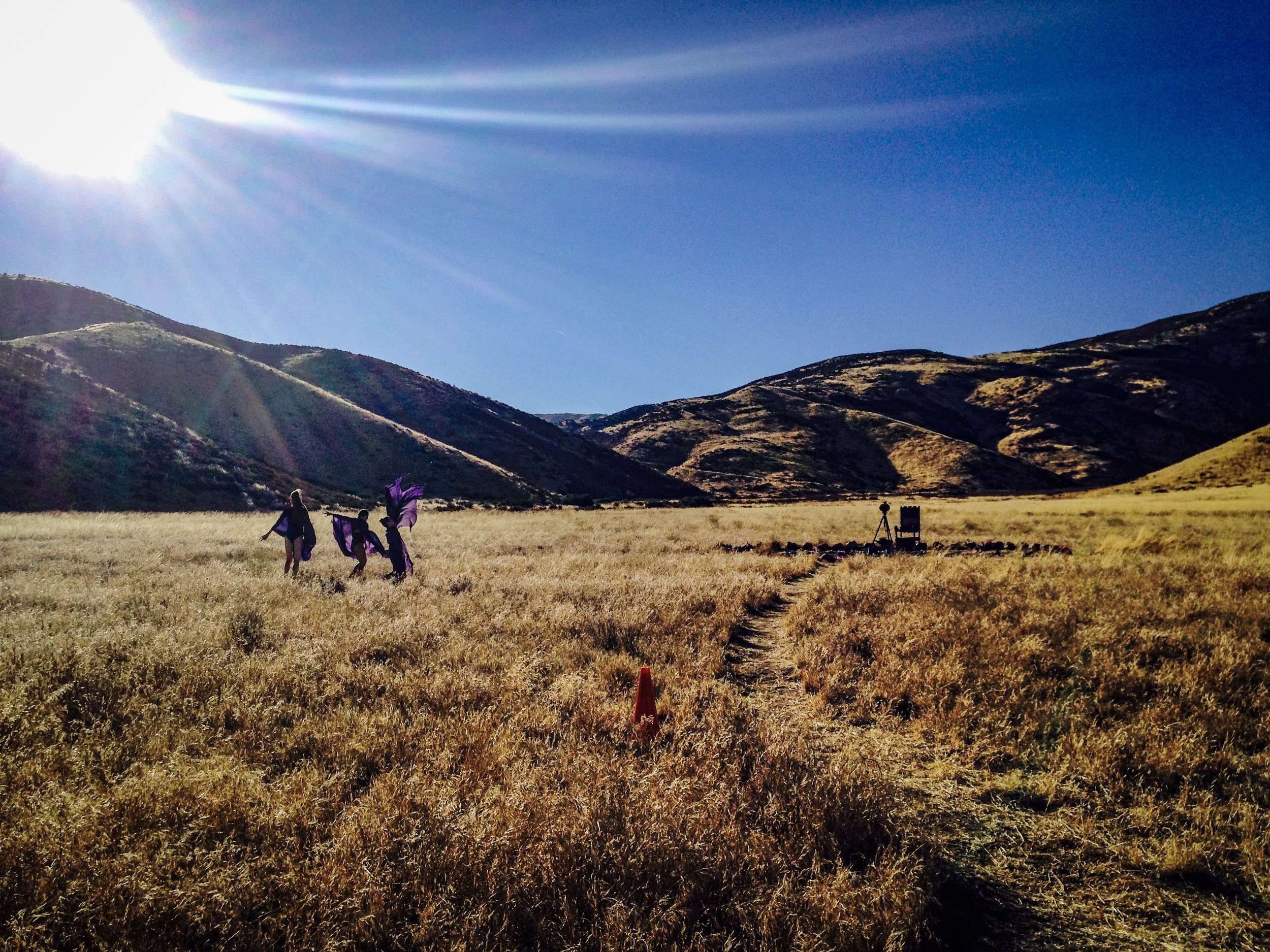 Tan Wei Wei Blah Blah
This was shot for a popular Chinese singer, directed by VR director Lex Halaby. We shot her in quadrants, where she would sing different part of the song in different wardrobe. We had to make sur the amount of overlap would suffice to do the trick, while maintaining lighting continuity (as much as we could).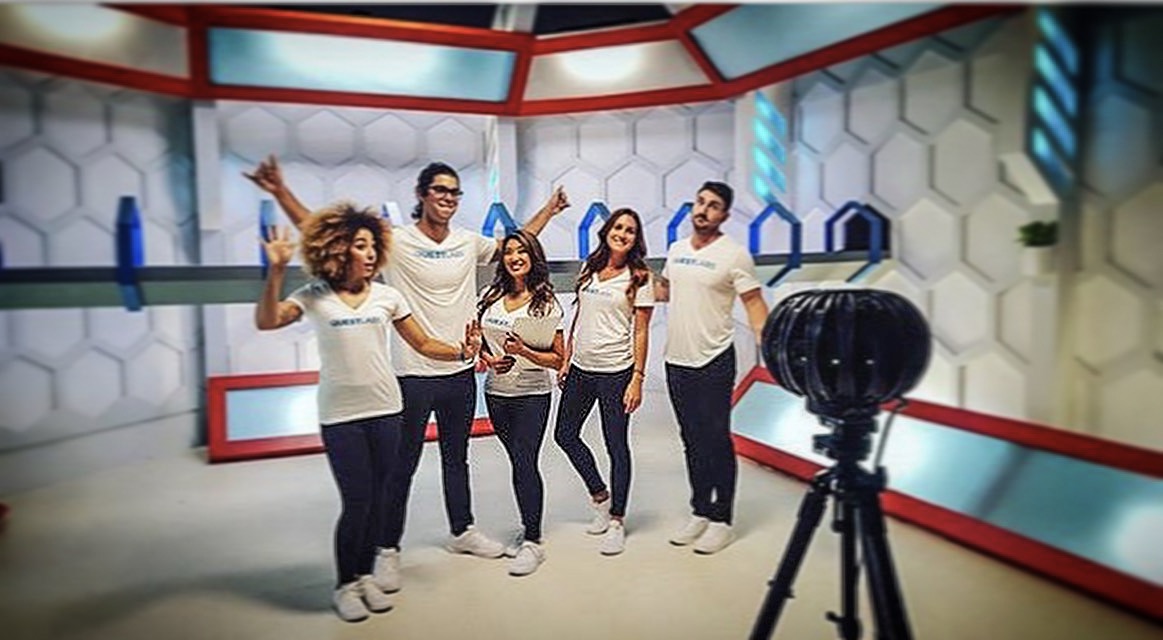 Quest Nutrition
Walking Within
This was an improvised indie short, shot in Los Angeles. No particular challenges, besides finding cool camera placements and locations, while having our talent performing in view of the VR experience.
Think Common
This one was a livestream gig with Rapper Common.
Pretty straightforward, except trouble shooting the tech side of it.
Freeway hack
I shot a short movie for an Israeli company a few weeks before. They needed extra time-lapse B-roll of Los Angeles, so they provided me a hacked Gear 360 (that had an intervalometer hardwired to it), and plenty of Uber rides. It was a little bit of a marathon because how the city is spread out, but working with a small camera for once was kind of nice.
Rim to the Pacific
This was shot for the Pacific Rim 2 VR experience. I flew to Australia last minute to the Fox Australia (Sidney) lot. The difficulty here was that the main team was shooting the movie, so we had to be ready at any time to shoot, without missing an opportunity, and give ourselves enough time to reach the control pod, set up the Mantis, rehearse the move with the actors….etc.
Double POV, double troubles
This was a commercial for Coke, shot in Mexico City. The creative concept had us shoot back to back in VR360, and traditional 2D POV. Making sure each rig was ready any time we needed it and keeping up with the pace was crucial. When not on VR duties, I was pulling focus for our 2D operator.
Lollamon
We covered Lollapalooza when Pokemon Go was buzzing all around, which inspired the concept of this one. Music festivals and VR are always the toughest gigs. It is the most straining physically, and the most demanding on the tech, which only asks to fail when used extensively. In this picture, I am rigging a camera pretty high above the crowd, that will later capture the Red Hot Chili Peppers.
On Stage with Major Lazer
This is in Kingston, Jamaica. Part of the documentary Hulu VR Series On Stage. This episode focuses on Major Lazer (available on Hulu VR, Oculus).
I've never had so many VR cameras covering one concert. We had 2 units shooting different things at different time for a few days, the concert being the grand finale where everyone was present.
Organized Chaos
This is the one of many on location-bedroom prep. We had to get the prep (since we didn't really have time to check everything before departure) and troubleshoot done before our pre-rigging time. This kind of prep always spices up life, as we have to fix things on the spot with knowledge and whatever is in that room!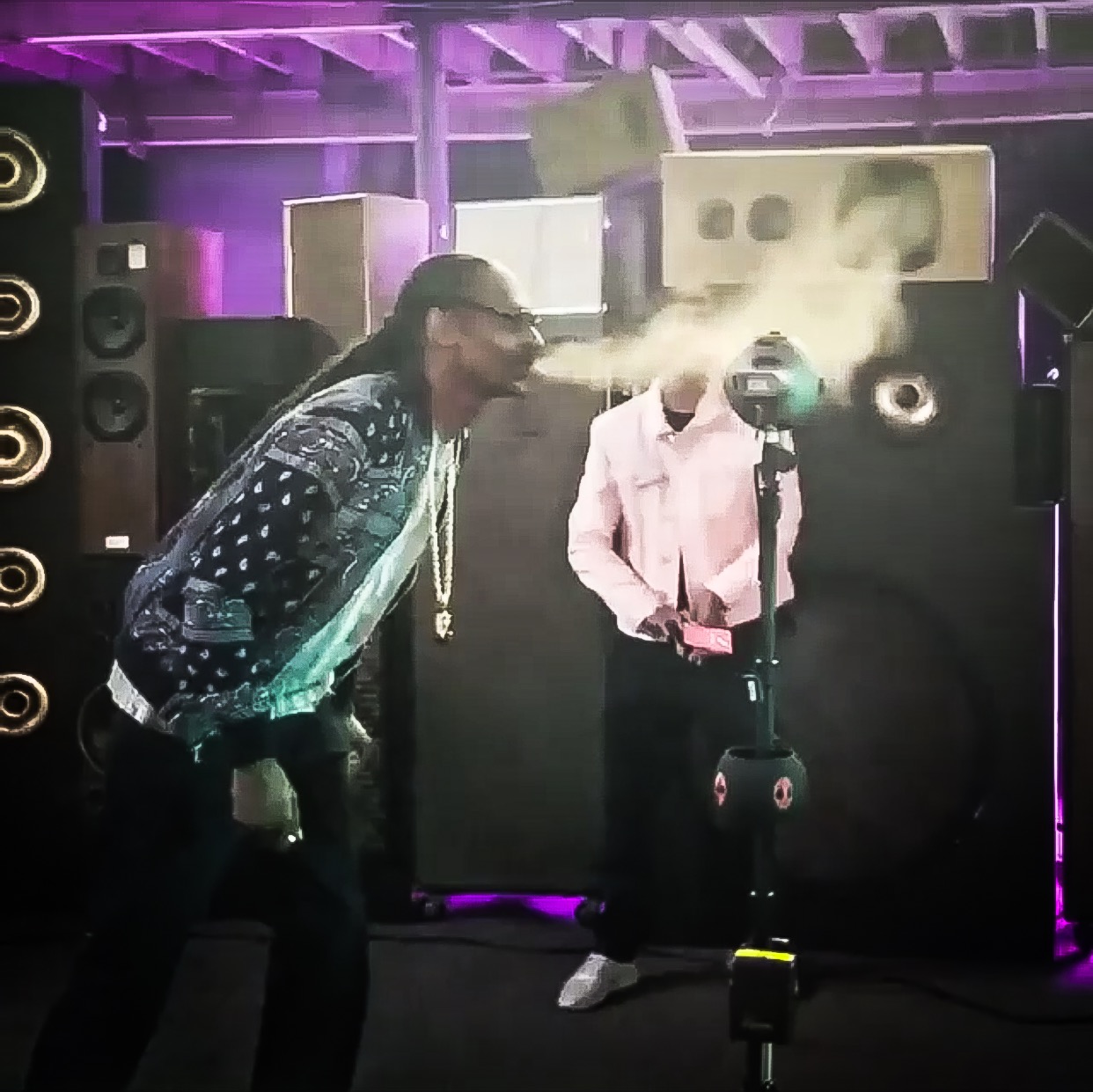 "If the ride is more fly, then you must buy." - Snoop Dogg
We were shooting the behind the scenes of his music video shoot. The mood and scent of the set pretty much matched what one can expect from this legendary performer…
The Wild West
Even though virtual reality has been around since the 70's, its cinematographic language is at an early stage, which some of us refers to as the wild west of VR.
Very often, and per project basis, we will be confronted to new challenges, that will invite us to experiment with new tech, and / or modify existing technology to improve the VR experience, and this starts during the capture. Here, we are testing the custom motion control system from Marc J Visuals (partner in in crime), and how well motion can be translated in a 360 environment, and how fast.
Testing testing testing, repeat
Choosing the right camera for the project is one deciding factor that will provide a successful delivery. There is no camera than can do it all. And the best way to truly know which one is the right tool is with testing and experience using as much of the cameras out there as possible, to know what is possible to achieve, and what is not.
The tech changing so often, it is good practice to test new tools whenever possible. On that same trip, we are testing this S1 Pro to see how well it can capture the detail of a complex environment.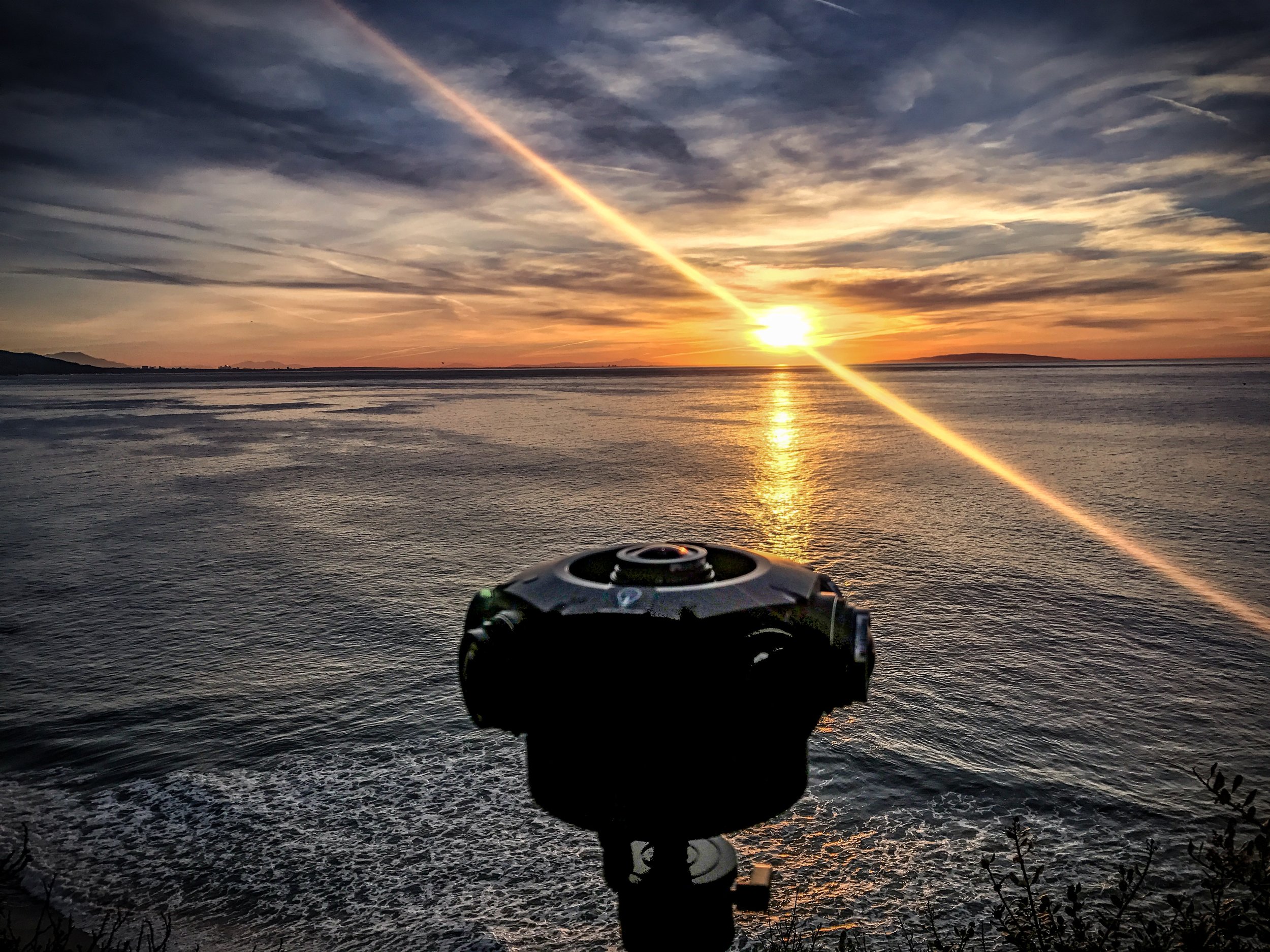 7 Miracles
This was from 7 Miracles VR feature movie, shot in partnership with Vive Studios, in Rome and Matera, for one month. We had almost every rig available from Radiant Images, that I partially prepped right before leaving. All was shipped there, and I finished the prep in Rome.
Because of the length of the shooting, the challenge here was to remain alert on any technical issue that could develop overtime on the gear, and make sure what we were filming ended up in the can. There would not be any re-shoot.
The movie was premiered at the Raindance Film Festival, and won best VR Film.
Jesus!
With the amount of takes over the course of one month on 7 Miracles, I had been logging each shot, take, VFX data, camera settings.. on an ipad slate app, and would generate a spreadsheet slate log, that would be very useful during post production, to help identify and input correct numbers that softwares need to create depth, warp lenses, key frame certain things…etc.
"You shall know the truth, and the truth shall set you free"
7 Miracles was a pretty technical project for a number of reasons. But it is also the first VR feature project giving a shot at integrating 6 DOF (degree of freedom) for some of the scenes. We used a custom rig to shoot some of the talent in stereography, that would be later recomped in some of the scenes.
"In July the ant works, the dragonfly flaunts."
Working with Drones in VR presents its own set of challenges for technical reasons and creative ones. Getting a drone pilot that understands how to move a VR camera is essential. The team work with the drone team becomes. an interesting tango every time. This was taken while shooting a project with my friends at DragonFly UAS, in Texas.